Kevin's 1961 MGA 1600 MkII
SN GHL2/104267
I recently acquired this car through an inheritance. My dad had it in storage for over 25 years, insisting he was going to restore it. Well, unfortunately for him, it never happened. However, I've now taken up the cause. On September 21, 2002, I trekked north to recover the car from storage. Everybody's heard of the story about "I know where there's some old cars that have been in a barn for years", but this is the real thing. Yes, the storage "facility" is a barn. I still have other cars there, one is definitely being 'disposed' of, but the rest, well, for now, I'm holding onto them.
There were 4 major variants of the MGA over its production run. The original "1500" , "1600", "Twin Cam", and "1600 Mk II". There were also some "Deluxe" models throughout the production runs, but these were derivations of the existing models. Those "deluxe" models are the rarest of them all (real production numbers vary, and are generally unknown), but of the mainstream models, the Twin cams are the rarest, followed by the Mark IIs. The MG Owners club of UK site has a description of the improvements made to the MGA 1600 that differentiated the Mk II's from previous models. Total production numbers for the Mk IIs were 8198 roadsters produced, with 6286 going to North America.
While the car looks rough as shown in this picture, it looks remarkably sound. There is rust of course, and the car has been repainted (twice). I've found evidence that the car's original color is black. The seats were once recovered with what I assume was gold velour-like cloth (YUK!). I'm going to try and salvage as much of the seat frames as possible. The surviving vinyl coverings inside are red, so I'm making the assumption that the interior was originally red.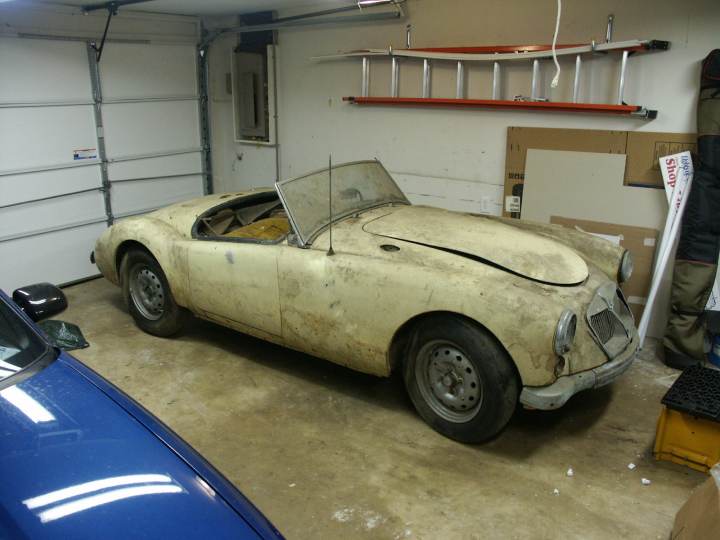 According to the speedo, the car has just over 56000 miles on it. I have no reason to believe it's not true, since the car was only about 16-17 years old when my dad acquired it. Who knows how long it wasn't running prior to that? The remains of the PA inspection sticker in the window is dated from 1972. That was the last year the car was legally driven. If it was parked during that year, then it hasn't breathed life for 30 years now.

I basically gave up on the car years ago but had no idea what to do with it. I finally looked up a place that would take it (as scrap) and in March '09, the car went away forever.
Updated 3/28/2009